NO MORE STATIC ELECTRICITY IN YOUR CAR!
NO MORE STATIC SHOCKS!
The MIZTER antistatic strap eliminates static electricity and static shocks in cars and trucks.
When your car is in motion, the friction of air molecules against the body of the car creates a build-up of static electricity. The vehicle can easily accumulate an electric charge equivalent to several thousand Volts responsible for the painful electrostatic discharge when exiting your car.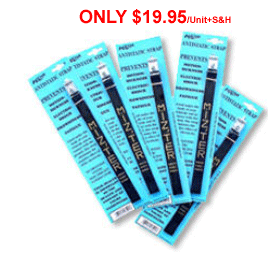 Stop electrostatic shocks now! Used with success all over the world on cars and trucks, the Mizter antistatic strap is proven to be effective in protecting you, your children, your pets and your car by eliminating the harmful effects of static electricity build-up while you drive your car.
Sold all over the world with steady success in auto parts shops, mechanic shops and department stores, our antistatic strap eliminates electrostatic shocks, reduces dust accumulation and improves radio/GPS reception when driving your car.
The MIZTER antistatic strap is durable and easy to install under the body of your car simply by tightening one bolt.
| | |
| --- | --- |
| | |
| The best antistatic strap! You will be amazed at the results! | |
What people say about the MIZTER antistatic strap.
"For years I have experienced extreme fatigue and falling asleep when driving my car (even on a short one hour trip). To have experienced such immediate and dramatic results, your Mizter device deserves recognition." More..
"We wanted to let you know how much the Mizter antistatic straps have helped. Not only have
they completely eliminated static shock, but we have also enjoyed less fatigue on our many long trips." More...
"Over 20 years ago I had a large, very carsick dog. A friend of mine introduced me to the anti static strap, a necessity for him as he traveled so much with show dogs. It worked worked!" More...